Fail, because schadenfreude is hard to spell.
And this picture is frickin' amazing.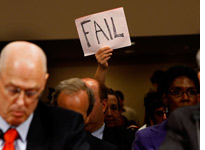 Yeah thats Paulson in the foreground during the big senate hearing.
If you'd like to know where the whole FAIL meme came from then
read this from Slate
(also where the pic is from), if you'd rather simply enjoy other people's fuck-up's then go to
FailBlog.com
.